Who are We?

Gene Wu didn't plan on a noodle-pulling career. The effusive proprietor of Gene's Chinese Flatbread Cafe came here 15 years ago from Xi'an, the capital of northwest China's Shaanxi province, to study chemistry and find steady work. He did the corporate grind for a while, but pushing 40, he craved more.

Contact Us?

Questions, comments, concerns? Shoot us an
email: genescafe@gmail.com
Phone: (781)938-6888
Facebook: Gene's Cafe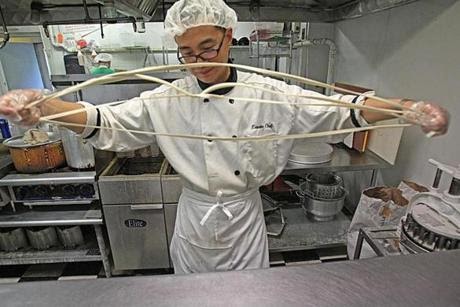 Noodles, flatbreads the hallmark of Gene Wu's Chinese menu
Post date: Jun 29, 2010 6:15:30 AM
By Kara Baskin Globe Correspondent June 12, 2012
CHELMSFORD — Gene Wu didn't plan on a noodle-pulling career. The effusive proprietor of Gene's Chinese Flatbread Cafe came here 15 years ago from Xi'an, the capital of northwest China's Shaanxi province, to study chemistry and find steady work. He did the corporate grind for a while, but pushing 40, he craved more.
Now Wu toils happily at a small storefront, stretching noodles behind a counter. "Not many people want to do this," he says. Hand-stretching noodles is an arduous process that rewards only those who appreciate sunrises. Still, Wu saw an opportunity: While Western Chinese restaurants like Xi'an Famous Foods are making waves in New York, Massachusetts lacks authentic Xi'an cuisine, hallmarked by noodle soups and flatbread. "In northwest China, we didn't have much rice," he explains. He opened on Thanksgiving Day 2011. When most Americans were scarfing turkey, Wu was rolling dough.
Gene Wu hand-pulls noodles every morning in the kitchen of his Chelmsford restaurant, where the few dishes on the menu are derived from his grandfather's recipes.
Suzanne Kreiter/Globe staff
Gene Wu hand-pulls noodles every morning in the kitchen of his Chelmsford restaurant, where the few dishes on the menu are derived from his grandfather's recipes.
Finding Gene's isn't a trip to China, but it does take pluck and a GPS. The storefront is beside a package store on a bumpy stretch of country road, across the street from a cluster of trailers. The kitchen, visible from the dining room, where there are 20 seats, is smaller than a suburban walk-in closet. Wu bounds about the space, which is festooned with family photos and glossies of each menu item.
Wu's restaurant is truly a family affair. Dishes are derived from his grandfather's recipes. True to minimalist Xi'an tradition, says Wu, there are only a handful of menu offerings. One is supple Chinese flatbread filled with marinated five-spice pork or beef, so juicy that condiments are unnecessary, though Wu graciously offers sriracha to the uninitiated. At $4 each, it's tempting to load up on several for the road. The other stunner is biang biang mian: strappy hand-pulled noodles in chili oil, crowned with shards of garlic and sprigs of cilantro. "Biang biang comes from the bang bang noise as we pull the noodles and slap them against the counter," Wu explains. "Banging makes the noodles more solid."
On weekends, Wu arrives at 6 a.m. to prepare his signature chilled noodles with steamed gluten and bean sprouts. He washes wheat flour and leaves it overnight. The next morning, he steams the dough made with it on a flat tray until it softens ("like a sponge," he says). Then it's time to cut and tug, stretching each noodle like taffy. These are made fresh throughout the weekend, but they are too time-consuming to craft during the week.
Other noodles are made in batches every morning and during lulls, "just like at a bakery," he says. House noodle soup is a daily staple. "It's called sister-in-law soup," Wu says. The dish is traditionally fashioned by a matriarch with whatever she has on hand. The noodles — skinnier and glossier than the hand-pulled variety — swim in an elephantine bowl of savory chicken broth fortified with lima beans, green beans, and carrots. It's a soft blanket of a dish, designed for groggy mornings.
The seeds for this enterprise were planted in a young Wu. In China, he started out as a dishwasher at his grandfather's restaurant. "I was almost as tall as the sink," he says. He absorbed the intricacies of noodle-making, but his grandfather urged him to pursue a career that didn't involve long hours and instability. "I came to America to go to school, find a job, get married, " he says. "Now I'm a bad husband." Doubtful: His wife is often working alongside him on weekends.
When he opened, locals were mystified at first. Where was the lo mein? Wu gamely added a few Americanized Chinese dishes to his menu (rangoon, wings). Now loyalists travel for his broad noodles in tingly spice. "People even come from Connecticut and Rhode Island," Wu says.
On that first Thanksgiving, he remembers, a traveler stumbled across his threshold and eyed the biang biang mian. The customer said, "'Well, OK, let me try that. I'm Italian, we know noodles!' He was confused and nervous," Wu says. And ultimately delighted: Now he returns twice a week.
Gene's Chinese Flatbread Cafe 257 Littleton Road, Chelmsford, 978-256-6789
http://www.bostonglobe.com/lifestyle/food-dining/2012/06/12/cuts-and-tugs-fresh-noodles-chelmsford-for-traditional-chinese-soups/4G3QpT5lmF7NsAiAcrc4AK/story.html